Art

Explore art at the airport and take home a new sense of inspiration
Canterbury is brimming with talented local artists and we're honoured to feature their amazing artworks here at the airport.
---
Street art
Check out the art trail map to explore the street art at the airport.
Watch the street art at the airport come to life through an augmented reality app. Download the free 'Plain Sight' app then watch the Orange-Fronted Parakeet in the mural under the Express Park building and the surfer in the Canterbury mural at Gate 15 come to life.
Sculptures
Clouds for Richard Pearse
Created by New Zealand artist Gregor Kregar, the Clouds are found in the Domestic Bag Claim on the Ground Floor. The artist designed the clouds to honour two things – South Island inventor Richard Pearse, who flew an aircraft near Temuka nine months before the American Wright Brothers' first flight; and Aotearoa, the land of the long white cloud.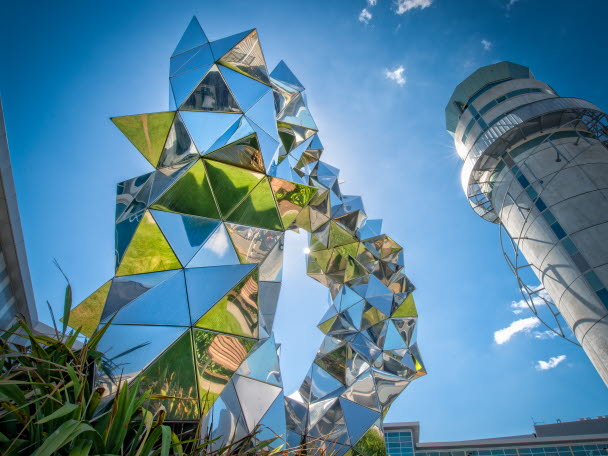 Cumulus Gate Pavilion for Richard Pearse
Another artistic celebration of South Island inventor Richard Pearse, this reflective sculpture is made up of 1,000 pieces of hand-cut stainless steel, held in place by 8,000 bolts. Located in the airport plaza, this impressive piece of artistic engineering has been designed to mirror the sky by day and the footlights by night. It also reflect the colours we use to light up the outside of the terminal, often in support of charities, events or community activities. 
| Airline | Flight No. | Arriving From | Scheduled | Est/Act | Gate | Status |
| --- | --- | --- | --- | --- | --- | --- |

Loading flights...