Exploring new smarts
With artificial intelligence expected to take off in the world, we're excited to explore how it can help us provide an even better service for our travellers. What have we looked into so far?
---
Meet our roving robots 
Over the next few years we're trialing a range of disruptive technologies, from AI to robotics projects, across various areas of our business.
In 2019 we began trialing our first humanoid robot, Pepper. Pepper robots are created by SoftBank Robotics to make people's lives easier, more connected and more extraordinary. This initiative was done in collaboration with the University of Canterbury and proved to be a huge success.
In fact, our first Pepper was such a hit that we've since expanded our robot population to four! We now have two sets of twins – two named Pepper and two named NAO. They live in our Digital Innovation Zone but their favourite place to be is out interacting with visitors. Their 'minder' often takes them for a walk in the terminal to chat with people, answer questions, pose for photos (they're always up for a selfie)… and dance!
One of our Pepper robots can sometimes be spotted at domestic security screening, helping guide passengers through the Aviation Security process.
Thanks to a school programme we are getting ideas from young minds on what else our robots can do to help passengers. Children from neighbouring Harewood School found the robots were great at answering questions and giving directions – although their top recommendation is to "get the robots to dance!".
Look out for our robots in the terminal or come see them in our Digital Innovation Zone on the first floor.
Check out the video below and read our media release to learn more.
Keeping our airport clean
We've partnered with OCS New Zealand to drive innovation and technology solutions. Together we're working to keep the airport clean and hygienic, and provide our visitors with a world-class experience.
Meet OSCA, the latest addition to the cleaning crew at the airport. OSCA is an electric, floor scrubbing robot. It drives itself around, can clean up to 2,000m2 of floor an hour and recycles water through its system. OSCA usually works in the Check-In Hall while its OCS teammates keep the rest of the terminal clean for our visitors.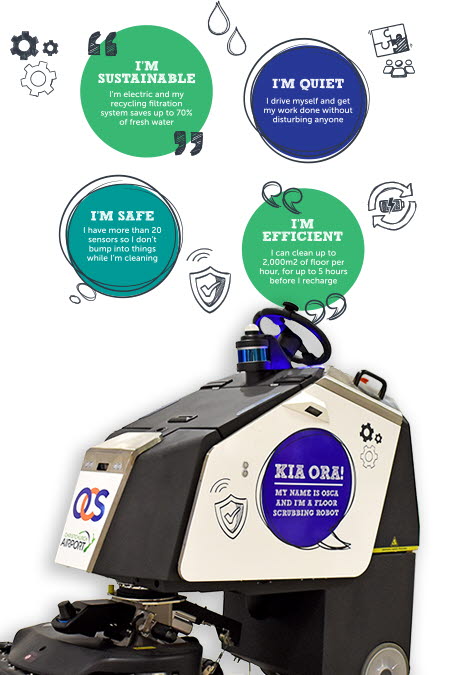 Future of Digital Travel Challenge 
Collaboration and sharing new ideas is how innovation happens, and it's something our Digital Innovation Zone is designed to promote.
In March 2019, we hosted the Future of Digital Travel Challenge with the University of Canterbury Centre for Entrepreneurship (UCE). Over two fast-paced days, teams of students were asked to look 15 years into the future and explore solutions to airport challenges. Robotic retailers, travelling by virtual reality and pilotless planes were just some of their solutions for integrating digital disruption and emerging technologies into the future of travel.  
Guided by experts and mentored by Christchurch Airport staff, the students took away new skills including teamwork, critical analysis, quick thinking and presentations – and we tapped into insightful ideas from our future travellers.
Check out the video below and read our media release to learn more.